Преподаватели-иностранцы расскажут о том, какие традиции празднования Рождества до сих пор сохранились в Великобритании, США и других странах.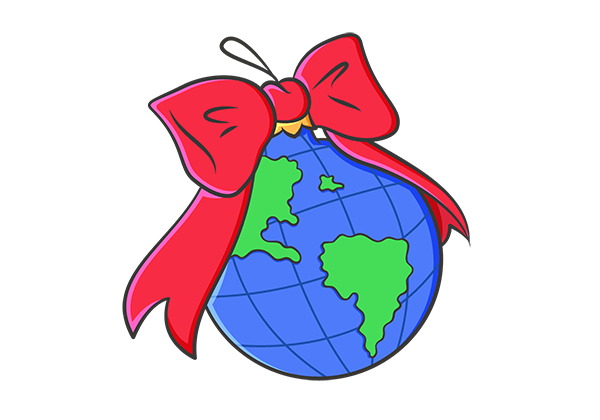 В школе «Инглекс» преподают не только русскоязычные учителя, но и носители языка — выходцы из Великобритании и США. Сегодня они расскажут о том, как празднуют Рождество в тех странах, откуда они родом или где живут сейчас.
Country: Ireland
City: Enniskillen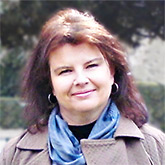 Mary
Christmas Day and Christmas dinner is very much a family occasion and people often invite an elderly neighbour who is alone because nobody wants to be alone at Christmas. Many people in Ireland still go to church on Christmas Day. There are a lot of religious customs. For example, the Irish would put a lighted candle in the window of a house on Christmas Eve as a symbol of welcome to the Holy Family.
Personally I love the Christmas atmosphere — the lights and the decorations of the shop windows. Christmas decorations go up in November and in the centre of every town there is a big tree. There is an official lights switching-on ceremony usually in mid-November. People like to decorate their house with fresh holly and it's considered lucky if it has berries on it.
People can dress up for Christmas Eve if they go out or have a family party. Christmas dinner consists of roast stuffed turkey and ham, mince pies, roast potatoes, Brussels sprouts, and other vegetables. There are also Christmas cake and plum pudding. If plump pudding is homemade, it should be prepared a couple of months in advance. It keeps because it contains alcohol usually brandy.
Santa Claus comes on Christmas Eve. Children get a lot of presents and they can be expensive like games consoles etc. People spend a lot on gifts. Presents are exchanged not only between family members, but between friends, colleagues and many others. For family members it could be anything — jewellery, perfume, clothes, gadgets or whatever. For neighbours or acquaintances — boxes of chocolates, toiletries or a bottle of wine are popular gifts. People also send Christmas cards by post to all their family, friends and acquaintances. Not everybody does this now because of electronic greetings. When I was young (before the Internet), we would write about 100 Christmas cards.
There are no Christmas bazaars or markets in the small town I come from, but several cities in Ireland do host Christmas markets. They would mainly sell food and drink, especially artisan foods and handmade crafts. Sales start on Boxing Day — 26th December.
Christmas is a very commercialised celebration. Bear in mind that airports, train stations, shops etc are very crowded in the run-up to Christmas and of course flight tickets can be extremely expensive at that time.

Рассказ Mary на русском языке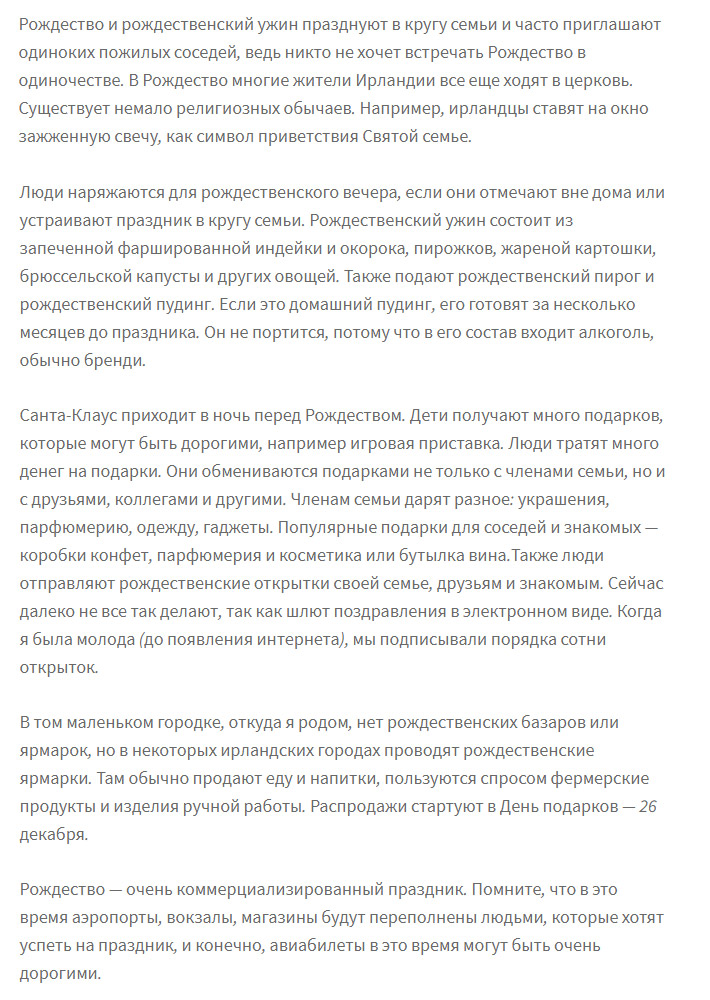 Country: Ireland
City: Tipperary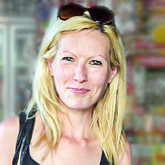 Louise
My town is always decorated so nicely. We have a big tree in the town square and along the streets, there are Christmas lights and flowers. It' s really beautiful and makes it feel like Christmas. We do have some Christmas markets in my country. Usually, they sell Christmas cakes and some things that people can buy as presents. There' s always a Santa Claus there for the kids to enjoy.
During the Christmas season there is not Christmas sales, but at the beginning of January, the shops start their sales and also it' s a good time to buy some Christmas decorations for the following year as they are sold at a reduced price.
People will wear something nice and dressy for this occasion and often like to include some red in their clothing. People will probably toast each other a Merry Christmas before sitting down to eat. We don' t have anything special for breakfast, but a roast dinner is always on the menu for dinner. So there will be Turkey, Ham, potatoes, vegetables, gravy, and stuffing. Christmas pudding is popular for dessert. We don' t have a special drink, but people do drink a lot more than usual at this time.
In the past, the day after Christmas, kids would go round to houses singing songs, however, it' s not as common nowadays but you do see it from time to time.
The big cities are always really nice for tourists as there is such a Christmassy atmosphere. However, it can be cold and frosty and the streets and shops are very crowded with last-minute shopping. Tourists will enjoy going to the local pubs as there is always a great atmosphere in them during the holiday season.

Рассказ Louise на русском языке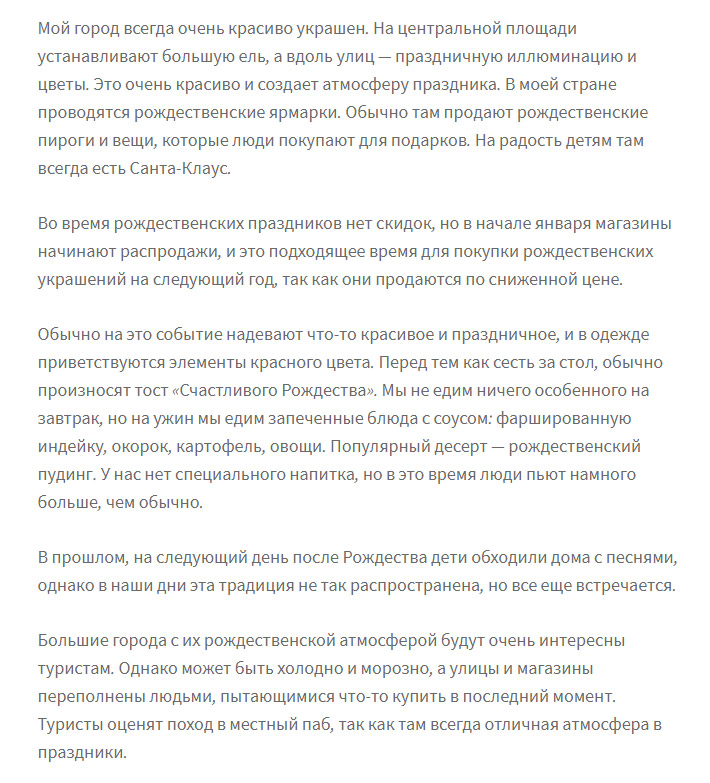 Country: USA
City: Raleigh, North Carolina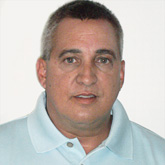 Jon
I'm from North Carolina. Things have changed a lot since I was a kid.
We don't have any special bazaars but there are Christmas shows around the city. Lots of Christmas sales on everything. Parts of the city are decorated with different lights and commercial adverts. Unfortunately, it is not a tourist attraction.
Usually families get together on Christmas day and the days before and after. People usually wear sweaters or something warm. Lots of ham and turkey dinners. Sweet potatoes and different pies like pumpkin and apple, sweet rolls and coffee for breakfast. No special wishes or toasts. Gifts are given to immediate family members and children. Gift cards to your favorite store are the most popular gift.
Unfortunately, there aren't any Christmas traditions anymore. In the USA now there is an attack on anything religious. Someone is always offended by something. Most of the traditions were religious in nature and that seems to be frowned upon now a days. Christmas in my country is pretty dull and boring. Enjoyed by family and friends only.

Рассказ Jon на русском языке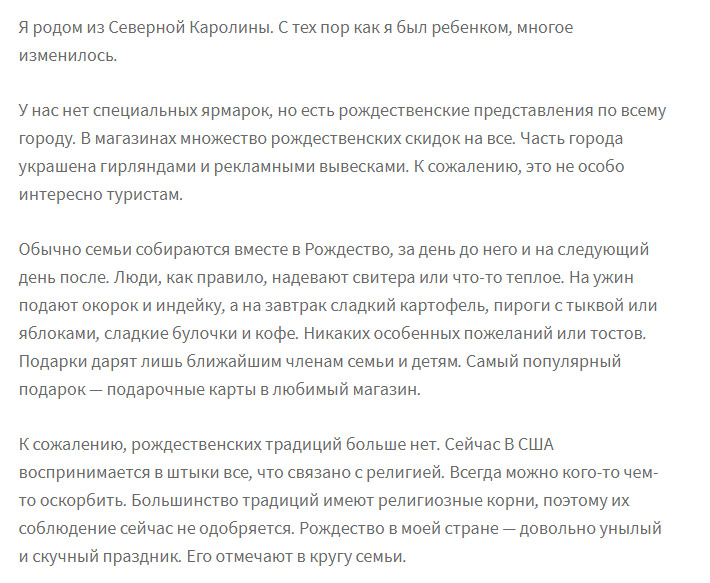 На занятиях с
носителем языка
вы сможете отточить свое произношение, а так же узнать о культуре и традициях представителей разных наций.
Country: USA
City: San Diego, California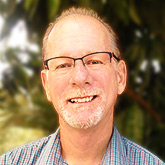 Rob
It really depends if people want to experience a more traditional or contemporary. Big cities offer a more modern experience.
My experience is that on Christmas Eve, we would go out for Chinese food, and maybe see an old traditional movie "It's a Wonderful Life." However, for Catholics and many Christians, they get dressed-up and go to their Midnight Mass to celebrate the birth of Jesus. On Christmas Day, our family would wake up around 6am while it was still dark and gather around the Christmas tree that was lit up with colored lights and gifts were under the tree. We would have coffee and cookies while we open the gifts. Then, ate breakfast. We didn't have special Christmas wishes or toasts, except "We wish you a merry Christmas". After that, the kids played with their new toys, some people watched TV (football or our famous holiday parades).
In the USA there are small community bazaars that are organized by small towns, private communities and churches. There you will mostly find home-made arts and crafts celebrating the holiday. Often times there are musicians and singers performing holiday music. In areas where the winter is colder, you can buy hot cups of chocolate and hot apple cider to drink while walking through the bazaar. Most cities and small towns are very proud of their decorations. Only the most vile of cities do not decorate for the season.
Black Friday (the day after Thanksgiving in November) is the biggest shopping day accompanied by the following Cyber-Monday. However, most of the sales happen between the day after Christmas and New Year's when merchants need to unload (get rid of) inventory before end of year taxes.

Рассказ Rob на русском языке
Country: South Africa
City: Port Elizabeth
Bernadette
I'm from the U.K., but now live in South Africa. I would like to tell you about Christmas traditions in both countries and will start with the ones in England.
If one has never experienced an English Christmas, I definitely recommend visiting the U.K.! One need not worry about climate too much, as the U.K. is relatively temperature.
The Christmas holidays are always eventful, never a dull moment! There are plays, carols by candlelight, markets to visit, excellent food to try out and plenty of cheer in the air. People flock to these markets to buy stocking fillers. Nativity scenes are seen throughout cities and of course, bought at markets in the U.K.
A vast majority of towns and cities in the United Kingdom are decorated with Christmas lights and intricately decorated trees over Christmas. The most famous Christmas lights are in Oxford Street in London. A month before Christmas (in November) crowds gather to watch the lights being switched on, commonly by someone famous!
Christmas anticipation begins during Advent, which starts on the 1st of December and ends on the 24th of December. Some families give their children an Advent calendar which is used to count the days of Advent in anticipation of Christmas. Children open each day and receive a small gift. This could be a small chocolate, sweets or even a pair of socks.
Dress to look your best, is the basic attitude. Some families in the United Kingdom are quite fond of wearing matching knitted jerseys — these are usually quite festive, knitted in brightly coloured wool, typically green, red and black — often embellished with images of reindeer or father Christmas. It is not uncommon to see people wearing red hats, replicas of the typical father Christmas hat.
As we well know, mothers and fathers are the secret elves that leave the gifts under the tree when all of the children have gone to bed. Parents usually start buying gifts a month or two before Christmas. Many families in the U.K. open Christmas presents first thing in the morning, on the 25th of December — names are written on the gifts and handed to people by the head of the house.
The main meal is comprised of gammon, roasted turkey, roasted vegetables and all the trimmings, this could be mint sauce, gravy, peas, definitely carrots and certainly stuffing. Pudding in English families is Trifle (a layered dessert made from jelly, fruits and finger biscuits with a generous pouring of Brandy) and a Brandy lit Christmas cake (a fruit cake onto which Brandy is poured, then the cake is set on fire — it makes the most gorgeous, blue, glowing light; of course, best done at night). As with any celebration, we toast to health, happiness and good fortune. Champagne and wine flow quite readily around a table decorated with holly, ivy, candles and Christmas crackers.
The day of the 26th is known as Boxing Day in the commonwealth nations. This is a day on which most people eat any leftover food from the gigantic Christmas lunch. Be aware that most shops will be closed over this period (24th-26th of Dec).
Christmas, all in all, has become somewhat of a consumerist holiday, however - most take it as an opportunity to gather family and friends together.
South Africa is definitely not recommended if one wants to really experience Christmas... unless you enjoy visits to the ocean, hot weather and barbeques! Christmas in S.A. occurs mid-summer, so having a barbeque or a swim in the ocean is absolutely popular!
Some church groups have a few stalls set up with goods on sale. In plenty of supermarkets, children are able to pay a small fee to take a picture with Santa Claus. Much like in the United Kingdom, people set up Christmas lights in the garden and decorate the Christmas tree together at home — this is a family tradition and quite an event! One must never forget to place the angel or star on top of the tree for extra good luck.
There are several charity groups throughout S.A. that set up Make a Wish campaigns, asking people to donate a gift to children or the elderly. Oftentimes, carol evenings (evenings where people gather to sing Christmas songs by candlelight) and markets are set up, so as to raise funds to hold/throw Christmas parties for Children's homes and elderly care facilities.
South African people open their doors to strangers and friends who are without family on Christmas day.
It is typical in every family in the U.K. — to leave Santa Claus a plate of biscuits and a glass of milk. In Africa, they leave him a glass of beer and perhaps some biltong (dried meat).
My little South African family take a few minutes to ask each other what they are grateful for — we take turns to share with the people at the table.In my circle, we do not buy presents for adults anymore — we instead buy presents for children and, make a contribution to the meal that will be prepared for Christmas day.

Рассказ Bernadette на русском языке

Country: Italy
City: Rome
Erica
Italy is very religious still, so all churches and Christian monuments are decorated. In Italy there are no bazaars, but we do have Christmas markets, where different Communes, make different items to be sold on stalls. The proceeds go to local charities. There are sales usually after the 1st of January known as the January Sale.
Christmas Italy is a family event, and as such most people celebrate it at home. It is not popular to be seen to have Christmas Lunch in a hotel or restaurant, so tourists may find it excluding to be here at Christmas. However I wouldn't recommend the traditional south, unless you have been invited by a family, to whom you will be spending the Holiday. However the north of Italy is different, because ski season is in full swing here at this time. So it's a good time to visit if you are in to winter sport.
Christmas Eve is the highlight of the Christmas calendar, which is celebrated by all members of the family. It is traditional to serve fish at this meal, the meal is served quite late, and is followed by the rosary at midnight, a long prayer dedicated to our lady. Another important date is La Befana. The witch, who comes on the 6th of January to bring gifts to good children and coal to naughty children.

Рассказ Erica на русском языке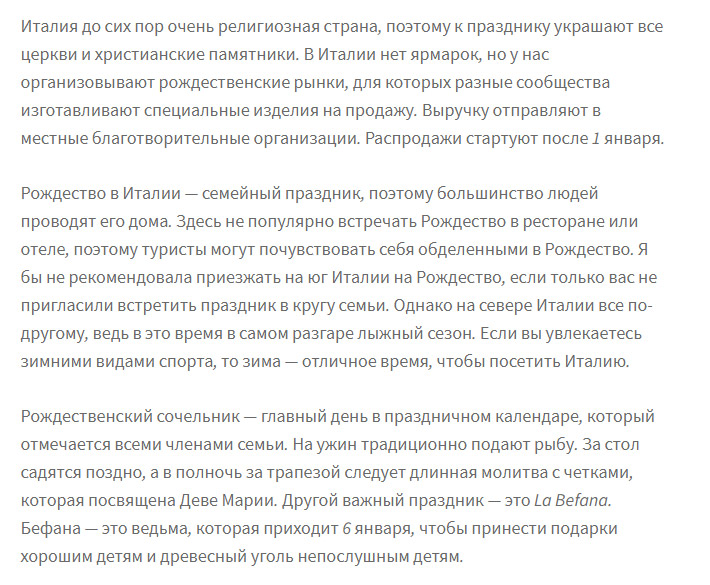 Возможно, какую-нибудь из традиций вы переймете и введете в уклад своей семьи. Желаем вам счастливого Рождества!